California
What to know when buying a car in California
When purchasing a vehicle in California the state sales tax can vary depending on the city or county you are from. This can be a range from as little as 7.5% for the statewide minimum, to 8% in Orange County, to as much as 10% in the Los Angeles County suburbs of La Mirada and Pico Rivera.
This is what the California state license plate looks like.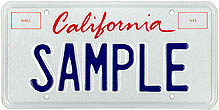 This is what a California drivers license looks like.