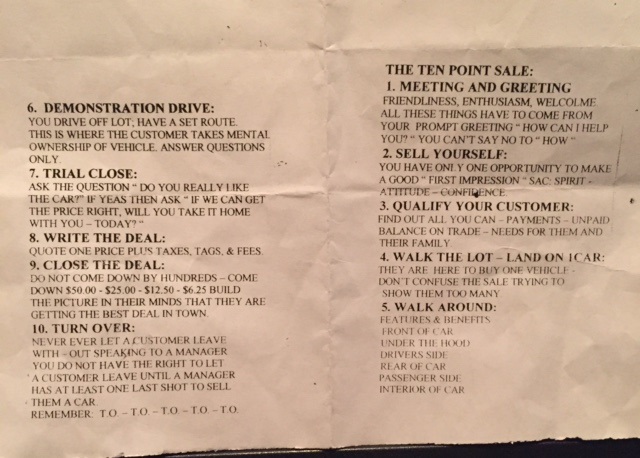 Salesman's Playbook
Below is a salesman's copy of the ten point road to the sale. It is what many dealerships live and die by. This is mainly the procedure a salesman is told to follow.
TEN POINT SALE:
1. Meeting and greeting friendliness, enthusiasm, welcome. All these things have to come from your prompt greeting, How can I help you? You can't stay no to "how".
2. SELL YOURSELF: You have only one opportunity to make a good "first impression" SAC Spirit Attitude Confidence.
3. QUALIFY YOUR CUSTOMER: Find out all you can: payments, unpaid balance on trade, what are their needs for them and their family.
4. WALK THE LOT– Land on 1 Car: They are here to buy one vehicle don't confuse the sale by trying to show them too many vehicles.
5. WALK AROUND:
1. Features & Benefits
2. Front of car
3. Under the hood
4. Passenger side
5. Rear of Car
6. Drivers side
7. Interior of Car
6. DEMONSTRATION DRIVE: You drive off lot, have a set route, this is where the customer takes mental ownership of vehicle. Answer questions only.
7. TRIAL CLOSE: Ask the question, do you really like the car? If yes, then ask if we can get the price right, will you take it home with you today?
8. WRITE THE DEAL: Quote one price plus taxes, tags, and fees.
9. CLOSE THE DEAL: Do not come down by hundreds, come down $50.00, $25.00, $12.50, $6.25 build the pictures in their minds that they are getting the best deal in town.
10. TURN OVER: Never ever let a customer leave without speaking to a manager. You do not have the right to let a customer leave until a manager has at least one shot to sell them a car.  Reminder T.O. T.O. T.O. T.O.